Happy "Most Wonderful Time of the Year!"
I just adore December for two specific reasons: it's almost always the month where we see the first snowfall of the season and it's the month I get to eat my weight in Christmas cookies. December. Is. Perfect.
This is the time of year when searches for recipes go through the roof, so it's the perfect opportunity to plan out that editorial calendar in preparation for an end to 2020. Here are some topics you can focus on in December:
Winter Holidays
I know you're probably giving me a "duh" right now, but hear me out. Obviously your readers will be looking for holiday-themed dishes and treats, but if there's one thing I've learned from putting these "Trending Now" articles together each month, it's that people plan and search for recipes way before the week before the holiday.
Try posting your more elaborate holiday dishes in the first few weeks of the holiday, and leave all of the quick and easy recipes for the end of the month. You'll find some winter holiday recipe #inspo below, but because this is generally the time spent with family and friends, you could also try and post recipes that have a more personal story and meaning behind them.
Here's a list of holidays to remember this month:
Start of Hanukkah: Thursday, December 10
Christmas: Friday, December 25
Start of Kwanzaa: Saturday, December 26
New Year's Eve: Thursday, December 31
Cookies
See? It totally is the most wonderful time of the year because cookies are trending this month! I'm a huge cookie monster this time of year, and apparently others are, too.
Holiday baking is the best, because it's one of the only times of the year where calories don't count. All kidding aside, people are more willing to indulge when it's the holidays, so try posting your most indulgent cookie recipes this month. Better yet, give your readers tips on hosting the perfect cookie swap or on shipping baked goods to their loved ones since they might not be celebrating together this year.
You can also find some trending ingredients to put into your cookie creations this month. For example, searches for brown sugar unsurprisingly spike two times per year: once around Thanksgiving, and once around Christmas. I'm already dreaming up a brown sugar snickerdoodle recipe. Yum!!
Since diets are trending this month (more on that in a bit), you can create cookie recipes that adhere to a certain diet. Keto cookies! Vegan cookies! Low carb cookies! There are so many opportunities here.
Another option? Make it an entire month of cookies! One of my favorite bloggers, Sally from Sally's Baking Addiction, holds her Sally's Cookie Palooza every December. It's where she publishes ten cookie recipes in a row to get everyone ready for the holiday season. This recurring recipe series is a great way to:
Capitalize on the trend
Establish trust with your readers
Establish expertise in a certain topic
Since this year will certainly look a little different celebration-wise, smaller-batch baked goods will probably please your readers too.
Eggnog
What…exactly is eggnog? Good question, huh? Maybe it's a question your readers have as well, as searches for "eggnog" unsurprisingly spike in December.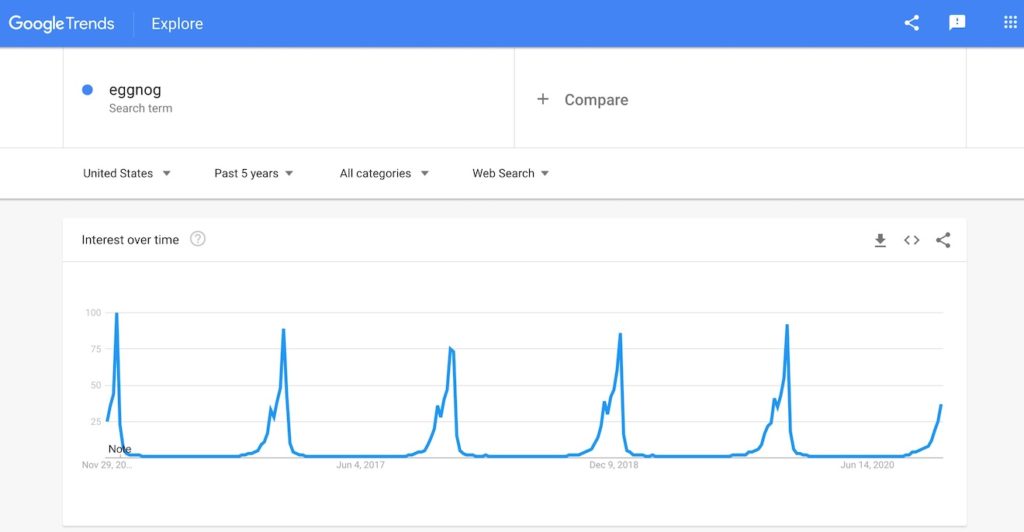 Eggnog is a really interesting food item because this is literally the only time of the year when it's consumed. And because of that, you have an awesome opportunity here to create some hyper-seasonal content around this oddly thick liquid.
Eggnog-based cocktails, a detailed history of eggnog, a roundup of the best eggnog recipes on the internet–while this content won't perform year-around, it has the opportunity to be one of your shining stars each Q4.
Peppermint & Ginger
Let's talk flavor! Two forerunners in the flavor department this time of year are peppermint and ginger.
You can combine these delicious seasonal flavors into your holiday/New Years recipes and/or into your cookie recipes (hello, gingersnaps!). Perhaps you can write about the health benefits of these flavors and share your favorite festive ways to use them this month. The possibilities are endless with peppermint and ginger!
Inspo: Peppermint Mocha from The Recipe Rebel & Fluffy Gingerbread Pancakes from Well Plated
Gifts
Tis the season! Your readers are looking for gift ideas, and gift guides are everywhere this time of year.
Buying the perfect gift. We all have those people in our lives who are impossible to shop for, I can definitely attest to the fact that holiday shopping is a source of December stress. Gift guides are huge this time of year, and they may be able to alleviate some of the gifting stress your readers are feeling. Not to mention that these guides can be a great source of affiliate income – win win!
Inspo: Holiday Gift Guides from Ambitious Kitchen, Buzzfeed, & the always entertaining Goop
Shopping Small Business and Local
Along those same lines, your readers might be looking for ideas to help them shop from small or local businesses this year.
2020 has been tough (understatement of the year right there), and the holidays are a great time to support the small, local businesses you love.
Put together some gift guides of your favorite local businesses! Figure out which products you've loved this year are from small businesses and write about them! Tag your favorite small businesses on social media!
There are so many ways that you, your voice, and your platform can help the small businesses that are struggling right now; this is a great time to think and shop small.
Inspo: 10 Holiday Gifts to Show Small Businesses Some Big Love from Pinch of Yum and Shop Small Gift Guide – Stocking Stuffers Under $25 from But First Coffee
Diets
We talked about indulgent holiday-themed dishes above, so is it really a shock that diet searches start to spike this month? It shouldn't be.
Readers are more willing to try out different diets – such as vegan, vegetarian, paleo, and/or gluten free – at the end of December/the beginning of January because the new year always signifies new beginnings. If you already run a diet-niched blog, great! Keep doing what you're doing, and you'll hopefully see a nice little traffic spike at the beginning of the year. If your blog doesn't focus on a certain type of diet or cuisine, you could try posting some lighter options for your readers at the beginning of the year.
Questions: Have you planned out your December editorial calendar yet? Are you posting different kinds of content in December 2020 than in years past?